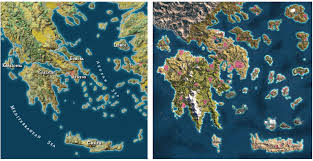 As video games sport more and more advanced gameplay and graphics, the appetite for a more complete control of the gaming universe becomes more pronounced for gamers. Gone are the days of linear progression; video game players crave a fully immersive experience and with it the opportunity to fully explore every single inch of the game world. Here we've brought a list of some of the biggest, fully-explorable open-world maps.
1. The Witcher 3: Wild Hunt
The Witcher is regarded as of the greatest open-world games of all time. The map size if this game is one of the biggest in history, spanning about 84 square miles. Special care and attention was devoted the creation of this game world, with each aspect projecting its own personality and character. The ambience is also evocative of medieval central European landscape and architecture.
CD Project designed this game with one objective in mind, and that is to deliver the best open-world gaming experience a gamer can aspire to. To achieve this, they downplayed financial and profit making considerations, instead concentrating on delivering high-quality games. Judging by the popularity of The Witcher trilogy, particularly the latest installment, it's safe to say that there's a lot of merit in their approach.
2. Grand Theft Auto V
We've come to expect exceptional quality from the Grand Theft Auto series, but their latest iteration takes the cake. It scores really high marks for gameplay and graphics, but no less impressive is the size and detail of the game world. Over six years after its release, GTA remains one of the highest grossing video games.
GTA V is a departure from the multi-city setting of GTA: San Andreas. It is set in a single city surrounded by 31 miles of deserts, mountains, woodlands and skyscrapers. The game map was inspired by the maps of Southern California and Los Angeles and features impressive monuments and buildings, including an army base. Rockstar games really delivered a masterpiece with this game and it's interesting to see if they can top this in their next release.
3. Test Drive Unlimited 2
Test Drive Unlimited 2 made a big splash when it was released in 2011, and the biggest flashpoint was the sheer size of the game's world map. The game offers not one but two fully explorable maps which were modelled after Oahu and Ibiza. Gamers also have the option to explore a vast 3200 kilometers between both maps, and you also have the freedom to go off-road any time you choose.
If you're an avid lover of free-roaming games, then this one could be tailored made just for you. You can spend endlessly hours exploring both worlds and zipping through 618 square miles of captivating landscapes.
4. Fuel
Another game with a racing theme, Fuel is set in a vast post-apocalyptic world that's a marvel of high-definition. To get a feel for how utterly impressive this game is, you'd need to experience it for yourself. It'll take more than a few hours of top-speed driving to cross the 5,560 square miles of the map diagonally, yet the game gives you the freedom to explore so much more.
Since its release in 2009, several gamers have attempted to cover the entire map of the game in a vehicle. Most simply gave up halfway. It's not just that the gaming world is vast (which it undeniably is), it also possesses a depth that's remarkable. You'll be hard-pressed finding another game that offers as much freedom as this one.
5. Fallout 4
The actual map size of this wonderful game is still the subject of intense debate among gamers. Every aspect of the map was designed with great detail, with every single part boasting character and a wealth of depth. This has the effect of making the map appear so much bigger than it actually is.
There are so many places to explore, from outdoor wastelands to underground areas, to rural villages and urban cities, all painstakingly designed and contributing stunning beauty of the game. Nevertheless, the size of the map (which has been pegged at 43 square miles) is just one of the reasons why this game is so popular.
6. Dragon Age: Inquisition
The official size of the map in this game is recorded as 45 square miles, but it feels so much bigger. The variety of deserts, hills, swamp lands and coastlines can make you feel like you're exploring a whole continent at times.
The storyline of the game itself is very compelling, while the graphics are vivid and beautiful. This game is one of Electronic Arts' most underrated efforts.
7. Ghost Recon Wildlands
The Ghost Recon series offer gamers the opportunity to experience the split-second decision-making time span that soldiers face in the heat of the battle. Interestingly, the whole map is yours to explore just as soon as you step into the world of this game. You don't need to unlock portions of the map as you proceed.