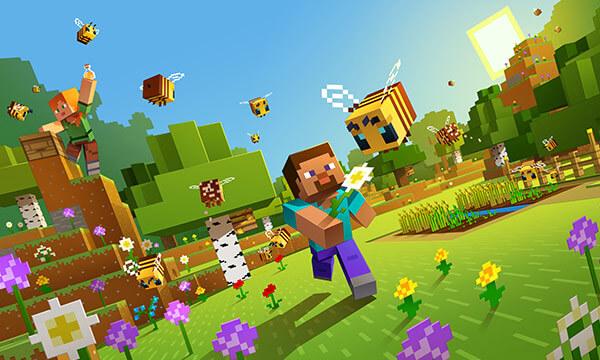 There are hundreds of thousands of applications on platforms like Google Play Store and many of those apps are mobile games. Over the years, we can confidently say that these platform games have simply grown from basic preloaded phone games to trendy games that capture the attention all. Annually, some games make it to the spotlight for the top ten, top five, or even top three. We will firstly focus on the top three games of 2020 starting from the month of January to the month of July. After that, a review will be given on one of the best games know to man till date; Minecraft.
The Evolution of Mobile Games
Games played on a mobile feature phone or smartphone are often referred to as mobile games. Previously, games were preinstalled on phones by manufacturing companies. A good example being the successfully launched snake by Nokia in 1997. Today, mobile phones have advanced with technology and there are lots of variants with advanced technology and more realistic graphics. However, some games are still preloaded by mobile operators or original mobile equipment manufacturers.
Games have evolved from either land-based or video games and transitioned to technological devices, including all handheld devices. Hence, you can download any game of your choice on app stores. These stores offer free or paid downloadable games created by gaming companies and land-based gaming centers like casinos.
On the other hand, extremely sophisticated mobile games with yearly increasing technological advances started from the end of the 20th-century. Features exponential display improvements, processing, storage capacity, interfaces, network bandwidth, and operating systems.
Categorization of Games and the Top 3 of 2020
Mobile games have varied playing categories which are multipurpose games, augmented reality games, location-based mobile games, and multiplayer mobile.
Multipurpose games are created with educational, health, and lifestyle purposes, Memrise is a good example. Pokemon Go is a good example of an augmented reality game. They make use of generated images and captured background images rendered according to the movement player. BotFighters and Geocaching are examples of location-based mobile games that infuse your position into the concept of the game by relying on GPS. Multiplayer mobile games, on the other hand, support multiplayer's either remotely over a network provider or locally through Bluetooth or Wi-Fi.
Mobile games are distributed to players through four ways: over the air, side loaded (via USB or Bluetooth), preinstalled games, and mobile downloaded games. Talking about the latter, with each passing year, some games have gained popularity amongst players. In 2020, some games have made it the top ten, but we are going to focus on the top three mobile games.
Taking back it's the top position from Fortnite in 2019, Minecraft in May 2020 alone had an estimate of 126 million players. Roblox had an estimate of 158 million players in June 2020 and PUBG mobile has had more than a billion downloads since its inception, marking it as the number one for 2020 as it continues to maintain its high ranking.
About Minecraft Mobile Game
Minecraft is a 3D sandbox game that has no specific goals to accomplish. The ingenuity lies in giving players like us the total freedom in deciding how we want to play the game; Minecraft. Pocket edition mobile is a paid mobile downloadable game that costs 7 dollars. It is a multiplayer game on both Android and PCs. Minecraft was developed by Mojang studios and created by Markus "Notch" Persson in the Java Programming language.
It was first released for personal computers in 2009, but has since moved to various platforms. Minecraft claims to being the bestselling video game of all time with 200 million copies sold across all platforms. As of May 2020, the game boasts of 126 million monthly active users and was inducted into the World Video Game Hall of Fame in June 2020.
How to play Minecraft Mobile Game?
A third-party software known as emulators helps you to effectively enjoy playing the mobile version of the Minecraft game on PCs using the standard keyboard and mouse controls. This usually helps those having issues with transitioning to mobile devices. Hence, the existing emulators help in playing Minecraft: pocket edition using PC controls. Unlike most games, Minecraft does not require pinpoint accuracy and precision. It, however, allows you and your friends to play within the same world only if you are all connected to the same Wi-Fi connection.
The limit of players allowed on the same Wi-Fi connection is five. You can access this feature by going to your game settings and select the 'Local Server Multiplayer." Now you can pick the world you want to play in and upload the game on your device. That will automatically make that device the host. Your friends can join that world by selecting the new world highlighted in blue on their mobile devices, which is at the top of their list.
Moreover, if you decide to have more than the five players that are allowed on the same Wi-Fi connection then you would have to consider using a server. A server is a permanent online world usually created by players for other players.
Now that you know more about mobile games namely Minecraft, you can explore and have fun!